What do you consider the highest rung on the career ladder? CEO? Director? Proprietor? How about world leader?
Looking at how some of the world's current leaders climbed to the top invites a mixture of emotions, depending on who you're looking at. Some are inspiring, some are surprising, but all are different. For many, the path to one of the most powerful positions a person can hold was neither straight nor smooth. Some cases make you question how they even got there.
Which is exactly what we did.
Taking a deep dive into the timelines of Donald Trump, Boris Johnson, Vladimir Putin and Angela Merkel, we set out to discover how the backgrounds of leaders in some of the world's most influential countries compare.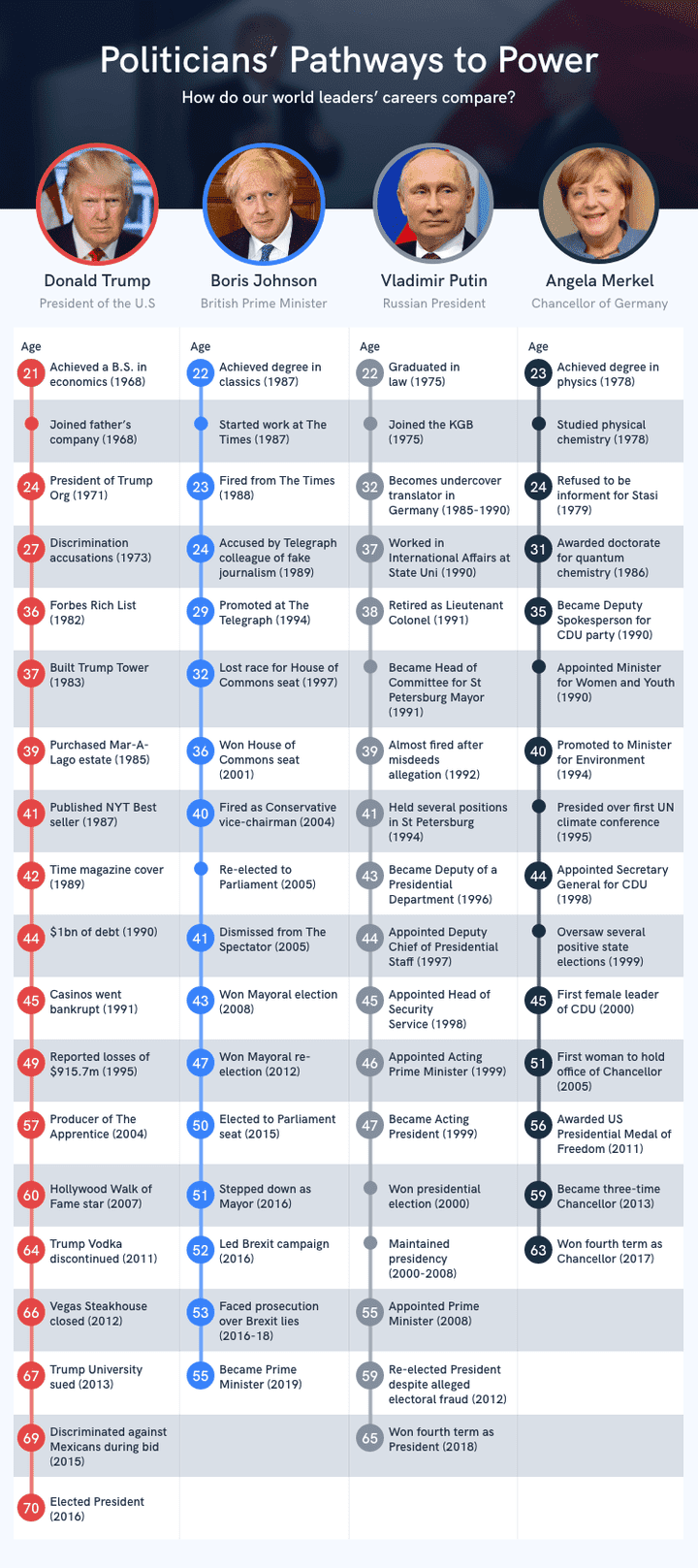 Attention to detail
It's clear to see these four leaders have had wildly different paths. To provide further background, we're going to unpack their timelines in more detail to further understand how they got to where they are today.
Donald Trump
From his multiple bankruptcies and legal cases to his successful TV show and winning the Presidency –Trump's track record has been a tumultuous ride to the top.
After college, he decided to go into the family business, taking over his father's company at 24. His portfolio continued to grow, developing Trump Towers at 36, the Mar-a-Lago estate at 39 and landing a book deal at 41. From there, things went downhill, accruing hefty personal debt, several casinos going bust and reporting millions of dollars' worth of losses. After a stint as host of The Apprentice at 57 and being awarded a Walk of Fame star at 60, his profile came crashing back down due to loss of sales and fraud. Despite claiming Mexicans are "bringing drugs, bringing crime" into America while announcing his bid, he was elected President of the United States, winning against Hilary Clinton.
Boris Johnson
Beginning his career in journalism, Boris has made his way through the political ranks despite his debatable actions. At times, he's used racist and homophobic language and has been known to be elitist, dishonest and lazy, but some find him entertaining, humorous and untraditional, painting him as a controversial figure.
After a promising start, Boris was fired merely a year after starting his graduate role at The Times after inventing a quote from a famous historian in an article. That same year, he landed a job at The Telegraph, only to be later accused of fake journalism. Despite this, the promotions kept coming, becoming an editor and columnist in 1994. In 1995, a phone recording emerged of him agreeing to provide the address of a journalist for the purpose of intimidation.
His first attempt at entering the House of Commons was a failure, but after bolstering his profile through political TV appearances and an editorial position at The Spectator, he won a seat in 2001. That year, chinks in his character continued to surface, as he was described as "ineffably duplicitous" by his boss after promising not to enter Parliament during his editorship. Within a year of being appointed vice-chairman and shadow arts minister of the Conservative Party, Johnson was dismissed after lying about an affair with a Spectator colleague.
After being re-elected to Parliament, he was then dismissed from The Spectator, taking his total dismissals to three. From there, his political career developed, despite another claim of an affair with a different journalist and later personal prosecutions after lying about the UK's spending on European Union membership.
After winning the Conservative Leadership race following Theresa May's resignation, he was elected as UK Prime Minister in 2019.
Vladimir Putin
An immediate look at Putin's timeline shows a steady stream of successes, from his stint in the KGB, to his nigh-on 20-year presidency. During his reign, he has helped the Russian economy grow, lifted the country out of social and political issues, restored links between republics after the economic collapse following the fall of the Soviet Union and introduced support for underrepresented businesses in Russia, such as farming, science and manufacturing.
While some see him as a strong leader, many are wary, accusing him of jailing political opponents, restricting press freedom as well as persecuting and even assassinating political activists. He was also accused of electoral fraud and vote-rigging, causing tens of thousands of people to protest against him and question whether Russia can have a free and fair election.
In recent years, there's been some controversy around Putin's involvement with the 2016 US presidential election, where he was accused of leading an interference program in support of Donald Trump. These allegations have contributed to dampening people's faith in his leadership and caused doubts around how he handles deals with world affairs.
Angela Merkel
Looking at her educational background, Angela's entrance into the political world seems arbitrary. After graduating from Karl Marx University with a degree in physics, she went on to study at the Central Institute of Physical Chemistry in Berlin before being awarded a doctorate for her thesis on quantum chemistry. It was in the aftermath of the 1989 revolutions that she joined the Democratic Awakening as a spokesperson and subsequently the Christian Democratic Union party. From here, her promotions were steady, landing the promotion to Minister for the Environment, Conservation and Reactor Safety just five years after her foray into politics. In 2000, she became the first female leader of a German party, as well as first non-Catholic to lead the CDU. A further five years later, she went on to become the first woman, first East German and the youngest person to hold the office of Chancellor. Her achievements continued, as she was awarded the U.S. Presidential Medal of Freedom – the foremost US civilian decoration – in 2011. Most recently, she won her fourth term as Chancellor with little effort.
Past experience
Think these four people are anomalies in the rise to political power?
Think again.
Assessing leaders such as Emmanuel Macron, Justin Trudeau and Jacinda Ardern, we found that the popular careers of politicians prior to their inaugural roles are incredibly diverse. Yes, the majority came from governmental backgrounds (28%), but legal (20%), media (16%) and education (16%) jobs also featured. This proves that not only is there not just one perceived path to a certain type of job but that you shouldn't compare yourself to anyone when paving the road to your version of success.
Make your resume great again
Whether you're thinking about a career as a world leader or you're looking to change your trajectory, this in-depth analysis of people who've reached the pinnacle of their career proves that setbacks – both self-inflicted and external – do happen but it doesn't have to hold you back. You can build on your CV, pivot your career, switch up your skillset and enter a field you'd never even imagined you would at the start of your working life. 
Donald Trump

1968

Graduated from the University of Pennsylvania with a B.S in economics

1968

Joined his father's real estate development company

1971

Promoted to President of Trump Organization

1973

Accused by the Justice Department of systematically discriminating against African Americans who wished to rent apartments

1982

Listed on the initial Forbes List of wealthy individuals with his worth estimated at $200 million – although was later accused of lying about this

1983

Developed Trump Tower, a Manhattan skyscraper, which would be his headquarters

1985

Purchased the Mar-a-Lago estate for $10 million, turning it into a private members club with annual fees of $200,000

1987

Published a New York Times Best Selling book, the Art of the Deal

1989

Appears on TIME magazine cover

1990

Amassed nearly $1 billion dollars of personal debt but avoided personal bankruptcy

1991

Several casinos went bankrupt

1995

Tax returns reported losses of $915.7 million

2004

Became the producer and host of NBC's The Apprentice

2007

Receives Hollywood Walk of Fame star

2011

Trump Vodka discontinued over lack of interest

2012

Vegas Steakhouse in Las Vegas closed for 51 health code violations

2013

Trump University sued for defrauding students, which eventually cost Trump $25 million in settlements

2015

Says Mexicans are "bringing drugs, bringing crime" and are "rapists" while announcing his run for Presidency

2016

Elected President against the odds vs Hillary Clinton
Boris Johnson

1987

Graduated with an upper-second class degree in the classics

1987

Begun working at The Times as a graduate trainee journalist

1988

Fired from The Times for inventing a quote in an article from a famous historian

1989

Worked at the Telegraph as a European correspondent where a fellow journalist described him as "one of the greatest exponents of fake journalism"

1994

Promoted to assistant editor and chief political columnist at The Telegraph

1997

Lost race to win the Clywd South Seat in the House of Commons for the Conservative Party

2001

Stood for the House of Commons again and won the Henley seat

2004

Fired from his role as Conservative Vice Chairman and other ministerial positions for lying about an affair

2005

Re-elected to Parliament with increased popular majority

2005

Dismissed from The Spectator

2008

Won the London Mayoral Election

2012

Won re-election as Mayor

2015

Elected to Parliament in the Uxbridge and South Ruislip seat

2016

Stepped down as Mayor

2016

Led the Brexit campaign to leave the EU

2016-2018

Faced private prosecution over claims he deliberately lied during the campaign

2019

Ran in the Conservative leadership race and won, therefore being elected Prime Minister
Vladimir Putin

1975

Graduated in law from Leningrad State university

1975

Joined the KGB's Foreign Intelligence Service

1985-1990

Was transferred to East Germany to work undercover as a translator

1990

Worked for the International Affairs section at Leningrad State University

1991

Retired with the rank of Lieutenant Colonel

1991

Became Head of the Committee for External Relations of the St Petersburg Mayor's Office

1991

Investigated by the city legislative council for misdeeds, where it was recommended he be fired by recommended by investigators

1994

Held several other political and governmental positions in Saint Petersburg including as First Deputy Chairman of Saint Petersburg

1996

Transferred to Moscow to work as Deputy Chief of the Presidential Property Management Department

1997

Appointed by the Russian President as Deputy Chief of Presidential Staff

1998

Appointed Head of the Federal Security Service

1999

Appointed Acting Prime Minister by the President

1999

Became Acting President after the President unexpectedly resigned

2000

Won the election to become President

2000-2008

Maintained presidency for two terms

2008

Prevented from running for presidency due to constitutional term limits but was appointed Prime Minister

2012

Was re-elected for a third term despite after widespread protests and allegations of electoral fraud

2018

Overwhelmingly elected as President for a fourth term with 67% of the electorate turning out to award him more than 76% of the vote
Angela Merkel

1978

Graduated in physics from Karl Marx University

1978-1990

Studied at the Central Institute of Physical Chemistry in Berlin, where she was also a researcher

1979

Applied for a job at an engineering school and was asked to join the East German secret police as an informant, but refused

1986

Awarded a doctorate for her thesis on quantum chemistry

1990

Joined the Christian Democratic Union party after the fall of the Berlin Wall and became Deputy Spokesperson

1990

Successfully stood at the elections and was appointed Minister for Women and Youth

1994

Promoted to Minister for the Environment, Conservation and Reactor Safety

1995

Presided over the first United Nations Climate Conference in Berlin

1998

Appointed Secretary-General for the CDU Party

1999

Oversaw several positive state election victories as Secretary-General

2000

Became first female leader of a German party, as well as first non-Catholic to lead the CDU

2005

Became the first woman, first East German and youngest person to hold the office of Chancellor

2011

Awarded the U.S. Presidential Medal of Freedom; the foremost U.S. civilian decoration

2013

Became Germany's third three-time chancellor in the post-war era

2017

Won fourth term as chancellor, with little effort
Sources